The Covetable
BY: Kristen Fehsenfeld
If you need yet another reason to visit Hampden Clothing's King Street outpost, here it is—Holst + Lee. A collaboration of New York City-based design duo Natalie Holst and Rochelle Lee, the...
BY: Kristen Fehsenfeld
I was a little skeptical (actually very skeptical) when I heard the former member of 'N Sync and comedic genius behind "Dick in a Box" was partnering with BeachMint to launch a home goods e-commerce...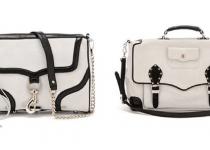 BY: Kristen Fehsenfeld
Ladies, get your credit cards handy. Gwynn's is hosting a Rebecca Minkoff trunk show this Friday and Saturday! If you haven't splurged on a RM carryall, I highly recommend you check out the S/S...
BY: Kristen Fehsenfeld
I just about died when I saw this "Tanzania" spotted wallpaper (by Thibault) in Chloe Magazine's reveal of interior designer Meredith Heron's office. It's difficult to tire of black and...
BY: Kristen Fehsenfeld
It was one of those mornings. Not quite ready to start the day, I hit the snooze button a few too many times, leaving no window in my already rushed morning to pack a lunch....
BY: Kristen Fehsenfeld
The dilemma is not uncommon: you've slowly graduated into adulthood while your furnishings remain better suited for a college dorm, or perhaps you've upgraded to a new space but don't have...