Family
BY: Joan Perry
BY: Instant Grit
And the Blog of the Week is... Being a Mom by Natalie Mason. "It means sometimes going days without showering or leaving the house. It means cleaning up more poop and vomit than you could...
BY: E. Louise
Mother's Day is three days away and you've got nothing. Goose egg. Nada. Feelin' the heat? But guys, it's actually easier than you think. I surveyed lots of moms to find out what they...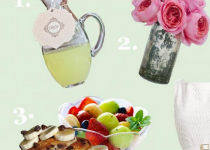 BY: Tara Guérard
Necessities for Mother's Day Brunch this Sunday: 1. Refreshing lemonade champagne. In a glass pitcher, mix two parts champagne with one part lemonade. 2. Flowers for Mom. I recommend a...
BY: Instant Grit
Mother's Day is this Sunday, folks, and wouldn't you know it? Grit blogger Chassity Evans of Look Linger Love has a big idea for you. She's partnered up with Kate Spade New York to...
BY: Devin Grant
You see that stately-looking fellow pictured to the left? That's David Grant: local writer, former advertising idea man, and 30-year resident of Charleston. Some call him a...
BY: Renae Brabham
There were a lot of serious life issues going on over the past two weeks. I felt I needed to write... needed to vent. Yet, I was scared to sit at a keyboard, afraid of what would bleed out through...
BY: E. Louise
I've mentioned in a past blog that University of Michigan's head coach, John Beilein, is my mom's youngest brother. Which means… Uncle John is headed to the Final Four. The Final Friggin'...
BY: Rebeccah Connelly
Rebeccah has a way of calling it like them sees 'em. So when this one came in, titled "5 Things I Never Want to Hear Again," we settled in for a good reality check. And that's what we got. It...
BY: Evans Craddock
This morning, my mom and I had coffee together (read: perks of living with mom). Anyway, we talked about the day ahead and soon the topic of marriage equality came up. I liked what she had to...